Posted by Jenn on 07/08/2016
If your dog loves to chew, you've no doubt learned the hard way that not all dog products marketed as "chew-resistant" or "for powerful chewers" live up to the hype. Too many of these items are destined to become vacuum cleaner fodder… and that's if your dog doesn't swallow the pieces first. No amount of reinforced stitching is a match for the average retriever or Rottweiler!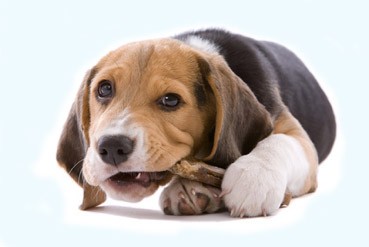 Photo Credit: www.midwayanimalhosp.com
To get the most for your money, look for hard rubber or nylon dog toys and a well-designed dog bed. These recommendations may not be as cute as the stuffed versions, but they will definitely last longer!
Kongs (and similar brands, such as West Paw's Zogoflex line)
Rubber Kongs are pretty much indestructible, making them a practical choice for powerful chewers. Some Kongs have space for something tasty, such as peanut butter, canned pumpkin, plain yogurt, meat baby food, or wet dog food. For longer-lasting enjoyment, try freezing the Kong before giving it to your dog.
Nylabones
Nylabones are another durable choice for serious chewers, and they come in tempting flavors like chicken and bacon. As with any dog toy, make sure you buy the appropriate size bone for your dog, since too-small toys can become choking hazards.
Whole deer or elk antlers
Naturally-shed antlers make great chew toys, and, unlike bully sticks, they don't smell!
Rugged dog bed
Most dog beds on the market have stuffing or foam, making them easy targets for determined chewers. To a serious chewer, a pillow bed is basically a big stuffed toy: it's begging to be shredded. Pillow beds also tend to have exposed seams or tags that dogs can pull or pick at until the whole bed falls apart. Kuranda beds are designed with real dogs in mind. Our beds have no exposed seams, no stuffing, and no foam. The frames are made of rugged PVC or aluminum, making ours the best dog beds for Labs (and other large dogs who love to chew.
If your dog doesn't seem interested in a new toy right away, don't get frustrated. There are lots of ways you can make the toy more appealing, such as rubbing it between your hands, smearing it with peanut butter, or just making a show of how awesome you think it is. Some dogs may need encouragement to try a new dog bed, but once they get the hang of it, they'll be snoozing the afternoon away!
Stop wasting money on flimsy pet-store items that just aren't designed for real dogs! You can't go wrong with a few good toys and a Kuranda elevated dog bed.