Posted by Jenn on 04/07/2016
We love our furry friends, but we don't always love their hair – especially when it's everywhere. Staying on top of the fur-bunnies in our homes is a never-ending task, but some solutions are more efficient than others. For instance, a lint roller might work well in a house with a terrier, but with a husky you'd need to buy those rollers by the dozen! Here are a few tried-and-true strategies for getting that dog hair off your stuff.
Source: Bulbhead
Removing Dog Hair from Furniture
You can buy all kinds of tools and gadgets for removing dog hair, but you probably already have one of the most effective tools for the job: a basic rubber glove. Rubbing furniture with a rubber glove will cause the hair to stick together, making it much easier to pick up. It's just like rubbing your head with a balloon when you were a kid!
You can vacuum furniture as well as floors, using the proper vacuum attachments. You can even invest in a vacuum specifically designed for pet hair, such as the Dyson Animal line.
For wood furniture, try using anti-static furniture polish to keep the hair at bay temporarily.
To help keep your upholstery clean, consider getting a washable slipcover or furniture protector. Heavy, textured fabrics such as chenille are often recommended for homes with pets. You can even get slipcovers made from outdoor fabric, like Sunbrella, for added durability. Read more pet-friendly decorating tips.
Dog hair collects the most in places where dogs sleep, so train your dog not to sleep on human furniture. Our dog beds are comfortable, durable, and much easier to clean than a couch!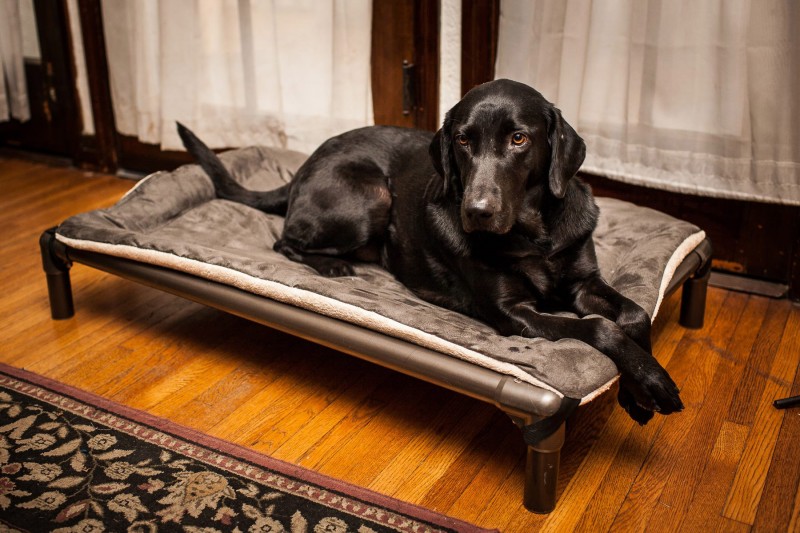 Keeping Dog Hair Under Control
Regular grooming will keep more of your dog's hair from ending up on your furniture. Remember to use the right type of brush for your dog's coat. To remove all the dead hair, you may need more than one kind of brush.
If you suspect that your dog is shedding more than he should, consider switching to a higher-quality dog food. Many vets also recommend adding a fatty-acid supplement, which supports a healthy coat.
What products and strategies have you tried for keeping pet hair off your furniture? Share what worked!