Posted by Jenn on 11/30/2016
Choosing a name for your dog can be harder than it seems. You want to find something that fits her personality, whether it's classic or quirky, goofy or dignified. You also want to choose a name you won't get sick of. You'll be saying her name thousands of times, so a name that's too long or gimmicky could get old fast. Some experts suggest choosing names that are no more than two syllables, so they're easy for dogs to recognize.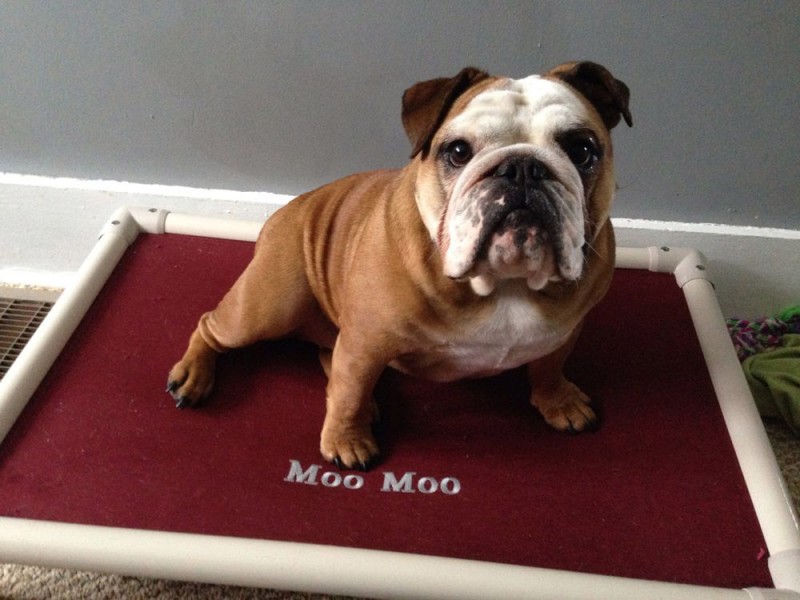 Once you've decided on a name for your new friend, you can personalize or monogram her new stuff: her collar, her food dish, and, of course, her dog bed!
What about human names for dogs?
Of course, there's no reason you have to give your dog a traditional "dog name" at all. Human names for dogs are becoming very common, a reflection of dogs' rising status in American families.
In their book The Art of Raising a Puppy, the Monks of New Skete express some philosophical concerns about this approach:
Though picking a name is enjoyable, do not take it lightly, since the name is the doorway to communication with your pup. It not only reflects a dog's individuality but reveals the way you look at her… Instead of choosing human names for our pups, we should select those that speak to a dog as a dog yet respect her own dignity and uniqueness. Otherwise we can easily fall into the trap of giving her human status. The dog becomes one of us, a "Fred," an "Oscar," or a "Betty," and we end up anthropomorphizing our pets, forgetting how differently they see things.
–The Art of Raising a Puppy
Anthropomorphic or not, you're likely to meet plenty of dogs named Bella, Lucy, Molly, Sadie, Charlie, Jack, and Max at your local dog park. When Rover.com analyzed its database of canine customers in 2015, 49% of them had human names!
Other ideas for dog names
Nature or place names

Aspen, Comet, Storm, Summit, Yukon

Names inspired by the dog's size, coat, or markings

Bear, Boots, Cocoa, Freckles, Ginger, Oreo, Tank, Shadow

Royal or military titles

Chief, Czar, Duke/ Duchess, King/ Queen, Lady, Major, Prince/ Princess, Ranger

References to TV or movie characters, celebrities, mythology, etc.

Female: Leia (Star Wars), Luna (Harry Potter), Moneypenny (James Bond)
Male: Chewbacca (Star Wars), Frodo (The Hobbit), Spock (Star Trek), Zeus (Classical mythology)

Names that reflect the breed's roots

Alaskan or Russian names for huskies
British names for Old English Bulldogs
Changing a new dog's name
What if you've just adopted a dog, but you just don't like the name she came with? If your dog came from an animal shelter, ask the staff if she even knows the name on her paperwork. She might, if she had been a family pet and was surrendered to the shelter. But stray dogs and puppies from unwanted litters are usually given random, temporary names by rescue groups. If that's the case, your new dog won't respond to that name anyway, so go ahead and switch it! A dog will easily learn a new name if it's used consistently as part of a positive reinforcement program.
How did you find the perfect name for your dog(s)? Share your story in the comments!