Posted by Greg on 07/22/2013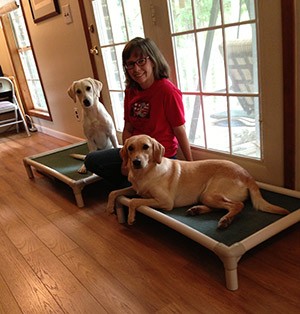 Rachel Thornton is a loving Mother who has a daughter that was diagnosed with type one diabetes about 7 years ago. Friends, family, and community raised the large amount of money necessary for a diabetic alert dog for her daughter, but, regretfully, all was lost, due to an unscrupulous company that sells dogs that could not be trained for service. Consequently, she and her daughter began teaching themselves - through intense research and through the valuable assistance of many others - to train a diabetic alert dog themselves. The success of that dog led them to share information and help others via their website http://www.diabeticalertdog.com.
The diabetic alert dog for Rachel's daughter was from a line of British labs from Wildrose Kennels in Oxford, Mississippi - an organization that breeds and trains British Labradors for field work and hunting. The success of Mr. Darcy was foundational to the birth of Wildrose Service Companions. Rachel currently trains Diabetic Alert Dogs for Wildrose, and has fallen in love with their labs: fantastic nose, persistence, energy, intelligence and beauty. The British Labradors can make a fabulous service dog; even the size is just perfect: large enough to be taken seriously, but small enough not to be difficult to navigate in public venues.
These dogs are trained to smell a drop in blood sugar (BG), and are taught a chain of behaviors to indicate the need for the diabetic handler to check his blood sugar with a glucometer. Most Wildrose Diabetic Alert Dogs are trained to indicate the BG concern by retrieving a 'bringsel' worn by the handler or the dog.
Rachel Thornton is a successful diabetic alert dog trainer and has become recognized in the diabetic community to be extremely helpful and thorough when it comes to training, advice, and tips. For anyone who is considering a diabetic alert dog, there is a lot of information on her website at: http://www.diabeticalertdog.com and also on her Facebook page.
Rachel chooses to use Kuranda beds with her training. The beds are raised and have a clear boundary which gives the dog a clearer message concerning the desired behavior: staying on the mat. It is the perfect tool to begin place training a young pup since it is virtually indestructible. The ability to introduce the concept in a way that sets the dog up for success is powerful to the dog and the trainer. All of our dogs begin place training on a Kuranda cot.