Posted by Greg on 11/19/2014
"Warrior Canine Connection is a pioneering organization that utilizes clinically based Canine Connection Therapy to help wounded Warriors reconnect with life, their families, their communities, and each other."

Molly Morelli is passionate about producing the best possible Labradors and Golden Retrievers to transform the lives of wounded Warriors. She is the Director of Dog Programs at Warrior Canine Connection (WCC), a 501(c)(3) nonprofit organization that enlists combat Veterans in treatment for post traumatic stress and traumatic brain injuries in the therapeutic mission of training service dogs for their fellow Veterans with disabilities. This program concept was created by WCC Executive Director Rick Yount and combines the healing magic of the human animal bond with the mission of helping another Warrior. Rick combined his experience as a Social Worker and professional service dog trainer to create a program that both addresses the symptoms of combat stress of recovering Warriors and creates much needed quality service dogs for Veterans with disabilities.
When Molly plans to breed a litter of future service dogs, she carefully selects the dam and sire for health and temperament. When the pups are about a week old, WCC opens its door to wounded Warriors, military family members, and civilian "puppy petters", who socialize the puppies and help them to develop strong, positive connections with people. The more socially engaging the dogs are, the greater the therapeutic impact they have on recovering Warriors. WCC has a puppy cam that captures the puppy petting and the growth, training – and yes, antics -- of the puppies over their first two months of life. The furnishings in WCC's Puppy Enrichment Center (PEC) include Kuranda beds, which are often piled with puppies or in the midst of the action. When the puppies are about ten weeks of age, they are placed in "puppy parent" homes and begin their training with recovering Warriors at DOD and VA medical treatment facilities, under the guidance of professional service dog training instructors.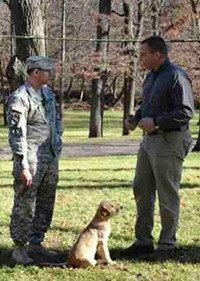 WCC's Golden and Labrador Retrievers are eager to please, soft hearted, and very intuitive about the needs of their Warrior Trainers. They are able to reach injured Veterans on a level that people can't. Molly told me a story about a severely injured Veteran who was the sole survivor of a helicopter crash. He had emerged from a coma, but remained bed ridden and was sent to live in a rehabilitation facility for Veterans suffering from traumatic brain injuries. The young man was unable to speak and had significant memory issues. Gradually, he was able to get up and around in a wheelchair and he began smiling at the WCC service dogs in training who work with recovering Warriors at the facility. Then one day the young Veteran suddenly said "Come Here!" Those were the first words he had spoken since his accident and they were directed at Derek, a WCC Black Labrador Retriever in training. The Veteran seemed particularly fond of Derek and delighted in their newfound friendship. He loved it when Derek would get in his lap and keep him company. WCC staff continued to bring Derek for visits with the young man. While there, they noticed that the Veteran had significant difficulty remembering names and would ask people to repeat them over and over. Imagine the feeling that the WCC and facility staff had one afternoon when the young man yelled out, "Derek, come here!" This is just one example of the powerful healing effects the WCC dogs have had on recovering Warriors and their family members.
It takes about two years of training for a WCC dog to be ready to be placed as a service dog for a Veteran with disabilities. During that time, each dog touches the lives of approximately 60 wounded Warriors, providing them with therapy and also a sense of purpose. The connections created between the Warriors and the dogs are life changing – and Molly and the staff at Warrior Canine Connection are grateful to have the opportunity to bring the healing power of dogs to our Nation's wounded Warriors.
Learn more about Warrior Canine Connection at: http://warriorcanineconnection.org/
When we at Kuranda discovered that WCC was a big fan of Kuranda beds, we gave our support whenever possible.