Posted by Greg on 10/15/2013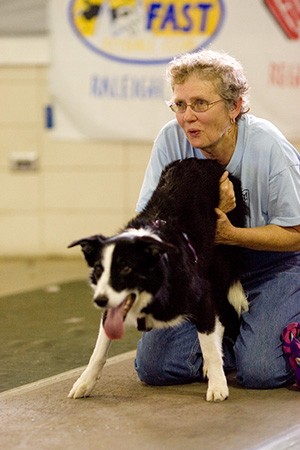 Sharon Harrell is captain of the New River Rapids Flyball Club, based in Blacksburg, Virginia. New River Rapids has about 30 team dogs, in all stages of training for flyball. Each year the team competes in a dozen or so tournaments, mostly on the east coast. In 2012 they were the Division 4 Champions in the Can-Am Classic , the world's largest flyball tournament, bringing teams from all over the US and Canada.
Flyball is a dog sport that is found in most parts of the United States. Flyball involves 4 dogs, generally 3 same sized dogs and one smaller dog. The reason for the one smaller dog is that the height of the jumps is based on the height of the shortest dog on the team. As Sharon says, the key is to have 3 big fast dogs and one short fast dog. This way the jumps are not too high for the rest of the team. There are 2 teams of 4 dogs competing against each other for the fastest time, a lot like Olympic swimmers. In each race, the 4 dogs from each team run as fast as they can, jumping over 4 jumps until they reach the end, where there is a spring loaded box with a tennis ball. When the dog hits the box in a "swimmers turn" it releases the ball. The dog must bring the ball back over the start/finish line, meeting another dog which has been released. The team with the fastest time wins. All kinds of dogs can compete in Flyball, and because of this, there are different divisions based on seed time, to make competition fairer. For more information, see http://www.flyball.org.
Sharon also owns Flying Fur!, a dog daycare, boarding, and training facility. Her dream for Flying Fur! has come a long way because of her commitment to her peers, customers, and of course the dogs. Sharon takes a great deal of pride and care when it comes to her dogs and customers, her passion shows through. Sharon is an inspiration to the dog community, always expanding and thinking of new ways for people and their dogs to have fun together.