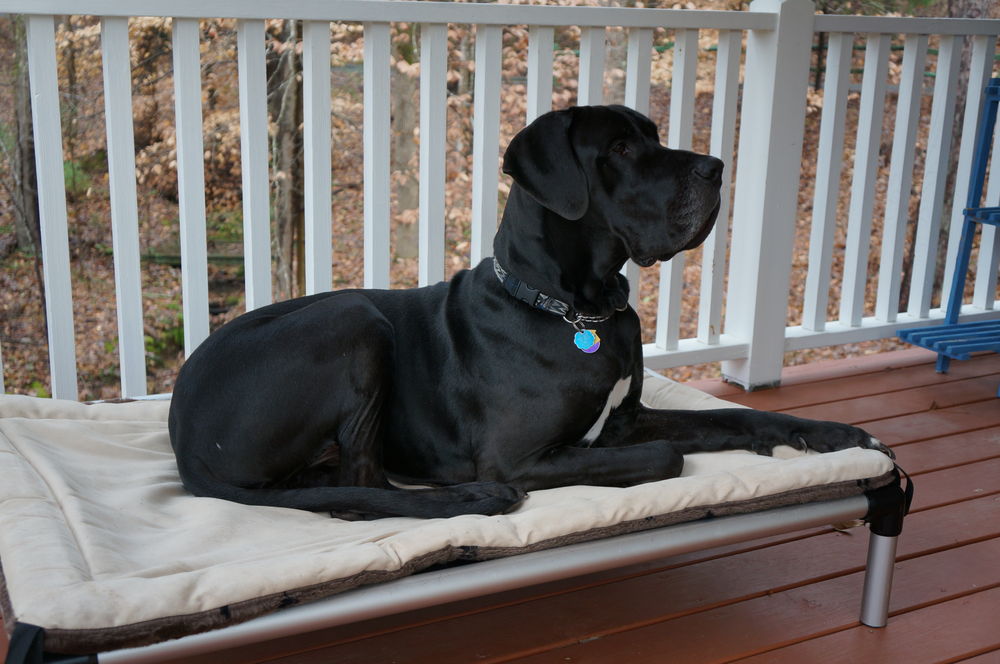 Kuranda dog beds are perfect for Great Danes hips; the elevated bed lifts the dog off the cold/hot floor. After an exciting day of playing outside Great Danes love to stretch out on their easy to clean Kuranda bed. The XXL size was created for giant breeds holding 150+ lbs with ease.
What Great Dane owners say about Kuranda Beds:
He Loves it!
Kaiser the Great Dane loves his new Kuranda bed. He can stretch out, roll over or curl himself up into a giant ball & make himself comfortable. This bed is the perfect thing for very large dogs. Another bonus: there's no foam or padded stuffing for him to chew on & demolish.
Tracy
Quebec
Impressive!!
We have 2 Danes & other than the couches, these are the only things they'll sleep on! The beds fit in their crates & when we travel, they always feel "at home"[...]We like the idea off the replacement parts & rather than having to buy new beds, saved $$.
Dane Mom
Sarasota FL
Perfect! A+
Our Great Dane (Chewbacca) loves his bed and, at night, it keeps him off of ours! Thanks! During the day, we find the Dane on our bed and our shepherd mix (Rocket) on the Kuranda bed. It works for everyone!
CCrutch2
Chicago, IL
Great Product, well worth the investment
My great dane loved his kuranda bed! It easily supported his 140 pounds and even held my 185 pounds when I stood on it several times. I'd say it's pretty much indestructible. Very chewproof. Before the kuranda, we went through MANY of those pillowy beds, and Caleb was not what you would consider a big chewer. We've had the Kuranda bed for 5 years it still is in great shape. Bottom line - Kuranda dog beds are great and I would highly recommend to any large dog owner. They make great donations to dog shelters and rescues.
CP
Orlando, FL
What size Kuranda bed should I get for my Great Dane?
We recommend:
50 x 36 XX-Large

Which Kuranda bed is best for my Great Dane?
Warranty
Warranty
1 year warranty
1 year warranty
Application
Application
Home Use
Home or Kennel
Durability
Durability
Years of home use
Lasts a lifetime
Indoor Use
Indoor Use
Outdoor Use
Outdoor Use
Yes, with Almond frame. Will not rust.
Yes, Will not rust.
Chew proof?
Chew proof?
Better
Best
For aggressive chewers
Weight Capacity
Weight Capacity
Up to 100 lbs.
Up to 250 lbs.
Sleep Easy?
Sleep Easy?
If your dog doesn't love it,
return it for a full refund!
If your dog doesn't love it,
return it for a full refund!
Build my Standard Bed
Build my Aluminum Bed