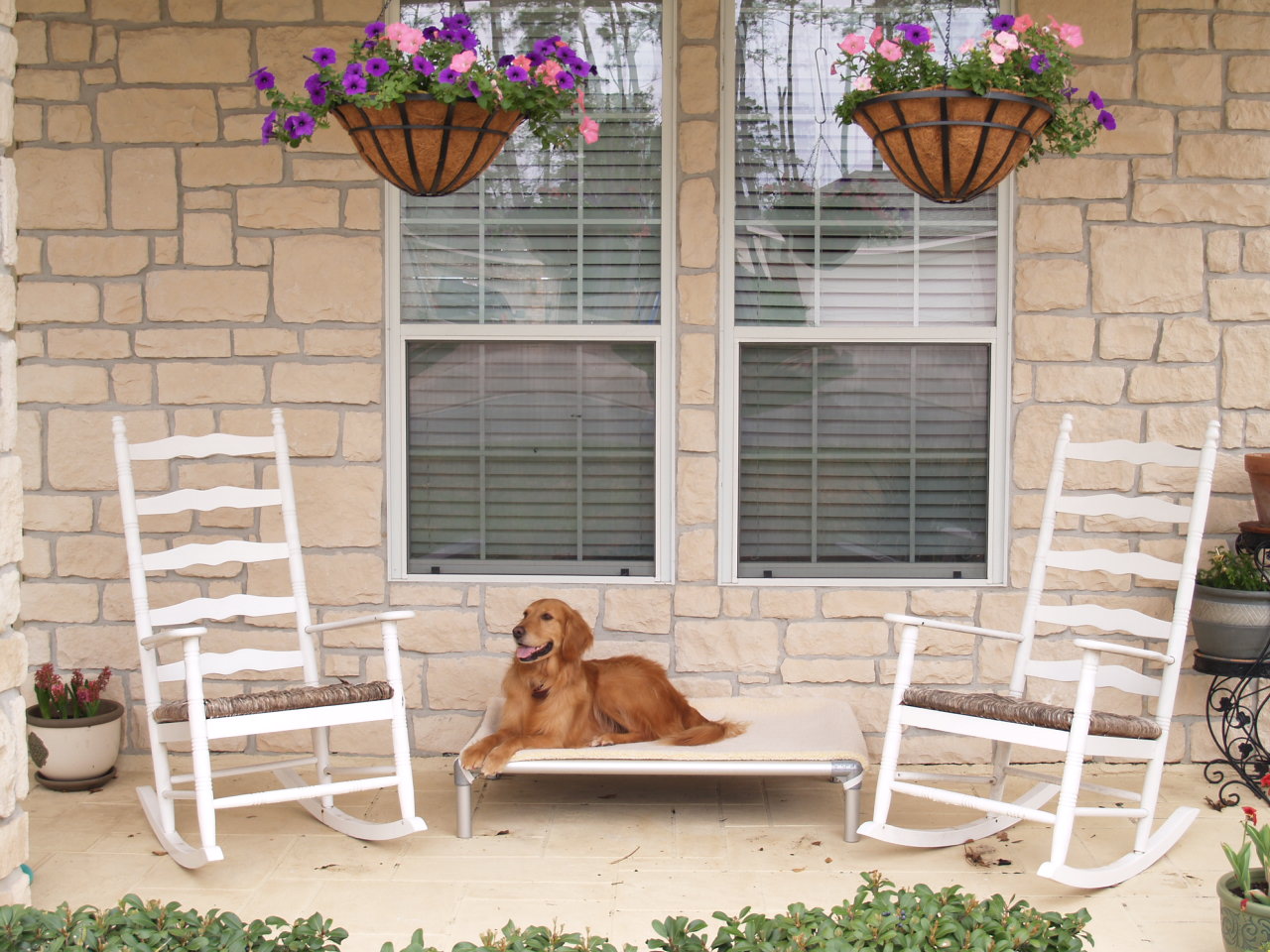 The perfect dog bed for America's favorite dog! Golden Retrievers enjoy the off the floor support and orthopedic comfort Kuranda beds provide for healthy hips and joints throughout their lifetime. We recommend Ballistic Nylon fabric to keep clean and hair free for this feathery coated breed. For Goldens who enjoy swimming, the vinyl weave fabric bed is the perfect place to dry off. Kuranda beds can stand up to a mouthy Retriever's exuberance without the worry of ingesting other stuffing types of bedding. The Large and XL size holds upwards of 150 lbs with ease.
What Golden Retriever owners say about Kuranda Beds:
Awesome product
This is an amazing product. My 8 year old Golden Retriever, with hip dysplasia, can easily maneuver on and off his bed with no pain or discomfort. I know by using these beds, I am helping prevent hip problems with all my dogs, and giving them the comfort they deserve. I also love how easily the bed cleans! Thanks for a great product!
Kristen the dog lover
San Diego, CA
Plenty of room for my Clyde to sleep
My Golden Retriever has extremely sensitive skin and I have purchased many different types of beds. The Kuranda Bed is the best. It never irritates his skin.
Niecy Hag
Abington, Massachusetts
This is a great bed. My dogs love it.
We have purchased 3 of these beds for our golden retriever and doberman. They are virtually indestructible. My golden is quite a chewer and she has destroyed all of her other outdoor beds except this one.
Molly's Mom
Huntington Beach, CA
What size Kuranda bed should I get for my Golden Retriever?
We recommend:
44 x 27 X-Large

Which Kuranda bed is best for my Golden Retriever?
Warranty
Warranty
1 year warranty
1 year warranty
Application
Application
Home Use
Home or Kennel
Durability
Durability
Years of home use
Lasts a lifetime
Indoor Use
Indoor Use
Outdoor Use
Outdoor Use
Yes, with Almond frame. Will not rust.
Yes, Will not rust.
Chew proof?
Chew proof?
Better
Best
For aggressive chewers
Weight Capacity
Weight Capacity
Up to 100 lbs.
Up to 250 lbs.
Sleep Easy?
Sleep Easy?
If your dog doesn't love it,
return it for a full refund!
If your dog doesn't love it,
return it for a full refund!
Build my Standard Bed
Build my Aluminum Bed