Posted by Carol on 01/04/2014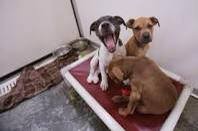 Yahooooooooo ! We did it ! You guys are amazing ! Thank You so much ! Once the beds start to arrive I will let you know. Please come out to the shelter and see the beds that you have donated. What a difference it will make to our dogs and cats !
We have received 7 more beds ! Way to go people !!! We appreciate your love and kindness !!!!!
You are all so wonderful. Thanks again !